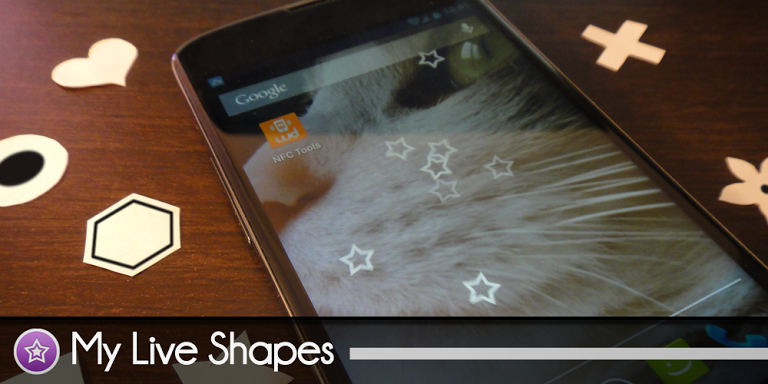 Information
My Live Shapes
+ 500 downloads

With My Live Shapes, give life to your wallpaper.
Description
With My Live Shapes, animate your mobile or tablet with a choice of 60 different shapes.
Customize your shape color and size for best integration in your wallpaper.

★ More than 60 different available shapes (and soon more)
★ 5 available sizes for each shape
★ Set exactly the color you want with the color picker
★ Upload your own pictures to give their life
★ Customize the number of visible shapes on the screen
★ Activate or not rotation of shapes
★ Available for all screen resolutions including tablets
★ Landscape mode is supported
★ When not visible, this application stop completely for saving your battery life
★ 100% free of advertising or spyware
★ Available for all Android phones version 2.1 +

※ To set My Live Shapes as wallpaper
Once download is complete, press and hold on an empty space of your home screen and select "Wallpapers" menu, then "Animated Wallpaper."
You can also follow these instructions: Home> Menu> Settings> Wallpaper> Live Wallpaper.

※ Bonus
If you also want a wonderful cat wallpaper for your application, free download here : http://wak.li/22y

※ Remark
If your wallpaper resets default after rebooting, you will need to set your application on the phone instead of the SD card.

※ Notes
If you have any problems, don't hesitate to contact us.