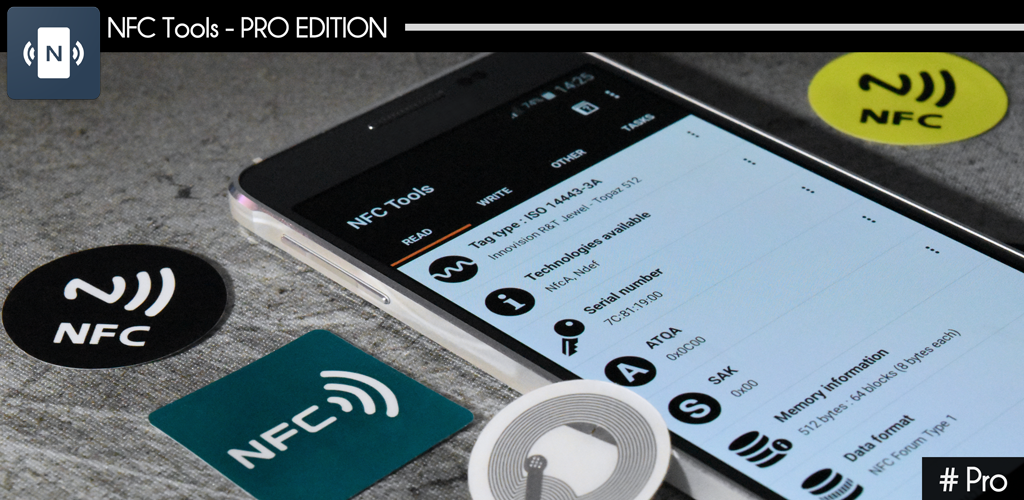 Information
NFC Tools Pro Edition
+ 200 000 downloads


Description
NFC Tools - Pro Edition unlocks all the possibilities of the app NFC Tools.

Read, write and program tasks on your NFC tags and other compatible NFC chips with a simple and lightweight user interface.

Get access to all the tasks available in NFC Tools without any limitations and unleash the power of your imagination to create fun and useful routines.

NFC Tools - Pro Edition includes additional and exclusive features such as:
- A profile management system to save profiles (records and tasks) and reuse them later.
- Import from existing NFC tags, to edit your records or tasks very quickly.
- Executing tasks without NFC tags, using a shortcut on your home screen.
- Emulate an NFC tag with your records (NDEF) using your device.
- Conditional blocks to create complex actions with conditions.
- More than 200 tasks for infinite combinations.

If you have any problems, don't hesitate to contact us, we'll be pleased to help you.

Notes:
- An NFC compatible device is required.
- In order to execute tasks, you need the free app: NFC Tasks.


We talk about it
| | |
| --- | --- |
| | [ EN ] Know How : Episode 103 |
| | [ FR ] Guillaume Slash : Automatiser son Android... sans fil ? |
| | [ EN ] NFC Forum : Tap Into NFC |
| | [ FR ] Journal du Palais : Les bonnes ondes de Wakdev |
| | [ EN ] How-To Geek : Explain Technology |
| | [ PT ] Everton Vianna : Automatizar seu smartphone com tags nfc |
| | [ IT ] Tutto Android : Automatizzare le azioni ripetitive |
| | [ DE ] NFC Guide : NFC Sofware test |
| | [ EN ] Pimoroni : Getting Started with NFC |
| | [ EN ] MashTips : Automate Android Phone with NFC |
| | [ EN ] MakeZine : Near-Field Fingernail |
| | [ EN ] ShowTime : Dark Net Season 1, Episode 2 |
| | [ FR ] France 2 - 20h : L'électronique dans la peau |
| | [ ES ] Andro4All : Cómo leer la información de una tarjeta NFC |
| | [ FR ] Prodige Mobile : Automatiser des tâches grâce aux tags NFC |
| | [ TA ] Tamil Tech : How To Use NFC Tags ? |
| | [ TR ] Webtekno : NFC Etiketlerine... |
| | [ RU ] iDroidUser : NFC: что такое, для чего нужен, как работает? |
| | [ HI ] Ur IndianConsumer : How NFC tags can make your life easy |
A very special thanks to
Malte Pahl
eyewerk.de
 
NasoSan
nasosan.it
 
Rafał Mania
ManiusNG
 
 
 
 
 
 
 
 
Alexander G.
kefir500.github.io

 
Jervânio Lima
Translator

 
David F.
DidOudadOuda

 
 
 
 
 
 
 
 

Céline C.

 
Ruoyun L.
deewee.net
 
Kay
Jap. Translator